0973.884.279 (Zalo)
support 24/7 time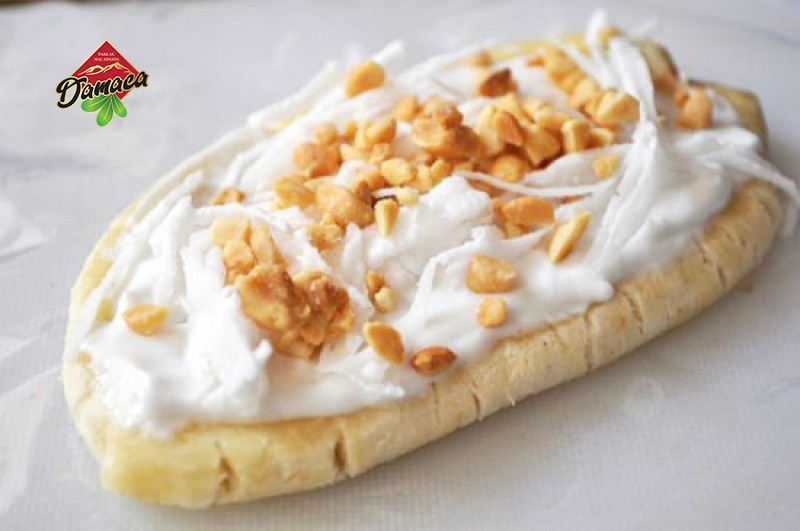 Macca seeds contain many ingredients that are good for human health and have a delicious, delicious taste. Therefore, this type of seed is widely used in the processing of many dishes, especially snacks such as banana cream macca, Damaca Nguyen Phuong will guide you how to do as follows:
Instructions on how to make 2 dishes of Macca banana kernel ice cream is extremely easy and delicious
Banana ice cream is a dish that almost everyone likes, if you are looking to make banana ice cream but are too familiar with the usual recipes so why not make a little variation with the macca nuts to ensure that you will get the dish both deliciously delicious and extremely nutritious.
1. Banana macca kernel ice cream with whole banana form
Let's make a whole banana seed banana ice cream. This banana ice cream is also very easy to make.
1.1 You prepare the following materials:
4 bananas we have ripe.

Macca nuts.

Whipping cream.

Coconut.

Non-sugar fresh milk.

Grated old coconut available.
Banana macca cream in whole banana form
1.2 Implementation steps
First, take 250ml of coconut milk and add a little salt and sugar and simmer. Add a little flour to make a thick paste.
Add whipping cream and mix well.
Put the bananas in a plastic food bag and use a flat, thin cutting board.
You can leave the whole fruit just clean or cut in half or three according to your preference.
Use a spoon to scoop the coconut milk mixture and fresh wipping cream onto the banana surface.
Use wood to skew the banana pieces to form ice cream sticks.
With macca nuts and peanuts you bring them to smash them.
Sprinkle macca seeds, beans and grated coconut over the banana peel.
Put this banana in a plastic bag and then keep it in the freezer for 1 to 2 hours, you will have an extremely attractive Macca kernel ice cream.
2. Banana macca cream puree
2.1 Raw materials
1 bowl of Macca nuts.

1 bowl of banana.

A little lemon juice.

1 bowl of medjool dates.

A little ice.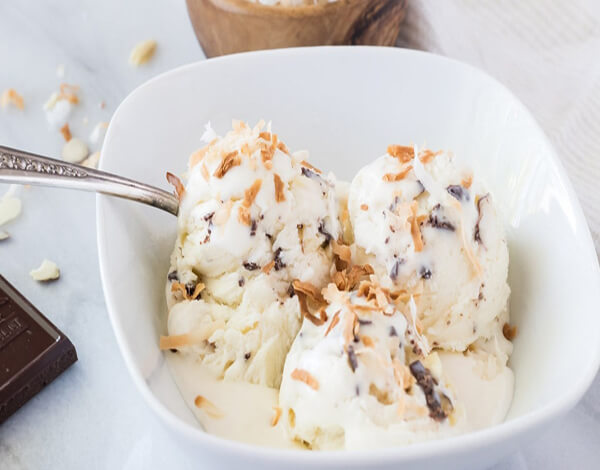 Kem chuối hạt macca xay nhuyễn
2.2 Implementation steps:
First you put the seeds in a blender puree.

Add the bananas and add the rest of the ingredients to puree.

Mix this mixture well.

Scoop into cups and decorate with a few thin slices of chocolate.
So, only about 15 minutes, you have prepared a delicious banana ice cream dish. If you want to eat frozen banana kernel ice cream, put it in the freezer for about 15 minutes. Delicious banana flavor, fat leopard combined with Macca seeds, there's nothing better than right!
The content shared from the above article hopes to help you learn 2 recipes for making delicious banana ice cream and macca kernel. Wish you and your family have moments of enjoying easy-to-make dishes from the available ingredients.
In addition, to buy Macca seeds to make quality banana ice cream, stay away from Macca seed products of unclear origin, poor quality Chinese goods ... you should go right to Damaca Nguyen Phuong Company. Macca nuts of Nguyen Phuong Macca are highly appreciated for their quality, deliciousness and appeal. Each macca nut is carefully checked for size and quality inspection before processing. Therefore, ensure a very low percentage of breakdowns or small seeds as possible ... Especially in Damaca Nguyen Phuong, there are many different packaging models suitable for your needs of eating and giving to you. roof selected to suit needs.
Customers can directly go to the Agent network nationwide to buy macadamia products or contact:
Damaca Nguyen Phuong Joint Stock Company
HOTLINE CONSULTING: 0973.884.279 - 0262 350 7776
Store online: http://damaca.vn
Website: http://maccanguyenphuong.vn
Facebook: Macca Dak Lak Nguyen Phuong
Youtube: Damaca Nguyen Phuong